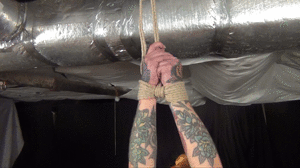 23:42 video
Ivan has Quinn on her tip toes and man that really makes her strong shapely legs look fantastic.
Quinn's ankles are tied cross and she is tight tight below her knees. Ivan plays with Quinn by pulling
her to her tippy toes and then letting her down stopping her just before she falls then repeat. I think
he has to much fun with that. When Ivan is done he leave Quinn suspended in the basement.