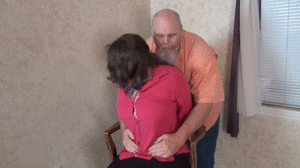 17:11 video
Ivan hase a lovely night planned for Divinity. She is new to all of this but she trusts him.
Not sure that is a good idea but it is good for Ivan. He has it all setup, the stool, the rope,
etc. Divinity is very hot in her tight red top, below the knee black skirt, Cuban stockings, and
high heel. Ivan ties Divinity up on the stool. Her shapely sexy legs are tied crooslegged show
them off in all the loveliness. She make great noises when her nipples are pincded and twistted.