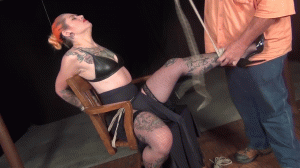 22:02 video
Ivan started Quinn Carter out with a bang in her first video release. Quinn is tied cross legged to a stool.
( Quinn has one of the sexist and best shaped pair of legs around.) Ivan tips the stool forward making
her very nervous. The only thing stopping Quinn from falling on her beautiful face is the strappodo she
is in. That is not good enough for Ivan so he adds a rope from Quinn's long slim neck to a point in the
ceiling. How Ivan can have fun by tightening and loosening the strappodo. Which in turn reduces and
adds to the pull on Quinn's lovely neck. Several times during the play the only thing stopping her from
falling is the press around her neck.