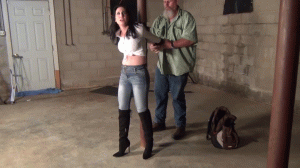 13:25 video
The bitch ran Ivan off the road causing him to hit the ditch. Raven did not even slow down,
just drove off. But Ivan gas tracked her down and now the hot little bitch will pay. Ivan goes
into Raven's house drags her to the basement. Raven will start her payback standing, tied
to a pole in her basement with a rope around her long slim pretty neck.