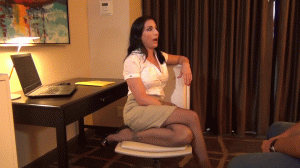 14:37 video
No one likes working for a hot sexy bitch who thinks she can treat you anyway she wants because of her looks.
Ivan has been work for Ms. yes Ms. Raven Eve just such a woman. She has called him into her office again.
Ivan can't believe she has the nerve to fire him. How that Ivan doesn't work for Ms. Raven any more he is free
to do something he has been wanting to do for a long time. Raven is surprised when Ivan return and even more
surprised when she realizes what he is going to do to her. Ivan ties and gags his sexy ex-boss. He really enjoys
seeing and not hearing her.Ms. Eve has no idea what is going to happen to her as Ivan picks her up, puts her
over his shoulder, and takes her out of the office.