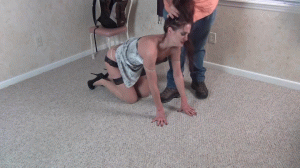 14:52 video
It is time to have some fun with Autumn Bodell. Ivan strips Autumn down to her panties and stockings before tying her wrist.
She is ballgagged and her ankles and knees are tied tightly together. After playing with his sexy little toy Ivan bends Autumn
backwards over a chair. Her wrists are tied to the ankles under the chair seat. Autumn does not look like she likes this position.