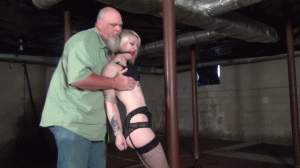 17:47 video
Ivan has himself a new play toy and she is very sexy with a great pair of very long shapely legs.
Tripsix is in for a night of back breaking work. Trip is carried in over Ivan's big shoulder, her hands
already tied behind the back. Ivan manhandles Tripsix as he ties her up. Grabbing her by the lovely
slim throat, hand-gagging, and even some legs up spanking thank to Ivan holding her up by the ankles.
After Trip is hogtied around a pole Ivan hooks a pulley to the rope going from her ankles and wrist. Now
it is time to play. Ivan tights and loosens the pulley. He is having lots of fun but figures it would be more
fun if Trip"s hair was tied back to her elbows.