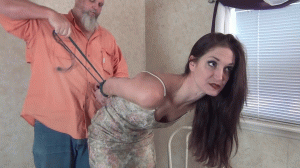 11:30 video
There has been money disappearing out of the office. Ivan installs a camera to catch the thief. The camera sees
Autumn going in and out of the room. Ivan finds more money missing. Ivan grabs Autumn and takes her to a backroom.
She tells him "she didn't take it". Autumn is tied to a chair and left to wait while Ivan goes and checks the camera again.
She isn't going to be comfortable with her hands and elbows tied behind the back plus her lovely legs crossed and tied.