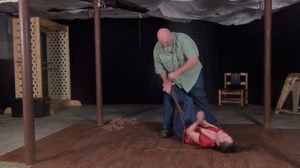 14:25 video
Ivan really enjoys manhandling and tying Rachel up. She is looking very sexy dressed in an amazing tight pair of
jeans, shinny red shirt, and a pair of 6 inch high heel shoe. While Ivan is tossing Rachel around and tying her up.
You can see her being handgagged, hairpulled, fondled, nipple tortured, etc. Rachel ends up tied tightly to a pole,
anlkes crossed, hands above head, and a big ballgag in her mouth.