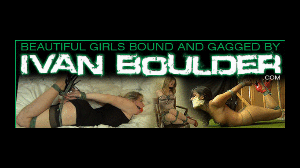 12:33 video
Ivan saw Irene as she walked through the hotel lobby and really like what he sees.
She is just what he is looking for with her fantastic figure and great legs. He will get
a good price. Ivan surprises Irene in her room pinning her to the bed, He ties Irene's
hands behind here back and then tape gags her tightly. Irene sexy legs are tied around
the knees and ankles. Next Ivan ties rope around her chest really showing off Irene's
lovely boobs. Ivan leaves Irene hogtied on the bed to go check on something. When
he comes back Irene is tossed over Ivan's big shoulder for her trip.